It's a Twofer Friday!

Before I get to our double feature, I have to ask you all to help with my Relay For Life / American Cancer Society fundraiser. I'm extending the pledge date to the end of the month. That means we have another week to raise money for the charity. Think about loved ones who have been touched by cancer; I think that's about the only motivation you need.
So please. I want you to read my books; but even more, I want to raise a good chunk of money.
One other thing... you might notice a Facebook widget on the scrollbar to your right. Slap the "Like" button on that widget. It's pretty simple. And that part is free, too!
On to the showcase!
Today, I'll be showcasing two different authors. Be sure to check out work by both writers. We indies have to stick together and support one another.The best way to do that is through commenting, reviewing, and spreading the word. So hop to it, readers and writers! Let's spread the word.
The first author is Arthur J. Sines. It doesn't look like he has an author site to promote here, so I'll just let you read about his work below. And keep scrolling for the other showcase afterwards.
* * * *
Book Title: BlackMail: The Beginning
Genre: Science Fiction
Your Book in 1000 Words or Less:
The Third Party, or The Party for short, is a ruthless organization of spies and saboteurs. Their goal is to subtly craft and direct the world into a utopia, a place with no crime, no hate, and no prejudice. A place where nationality no longer exists and all people coexist peacefully, the true Marxist dream.
One of The Party's best agents, BlackMail, is being assigned to train a new recruit. The Party has high hopes for their new agent, Jade. But shortly after her training begins The Party assigns them to a critical mission that threatens their existence. But things go terribly wrong and it leaves BlackMail questioning what The Party really stands for.
Her discovery will propel her down a road she never thought possible, and forever change her life. And it will propel Jade down the path of The Third Party.
Book Link:
BlackMail: The Beginning (Agents of The Third Party)
Something Unique About Your Writing Process:
I wrote and edited this book over a very long period of time. It had at one time spawned an entire site dedicated to helping unpublished authors get their work out. That didn't work, but fortunately amazon caught on and that dream is realized here.
* * * *
The second author in today's showcase is Kenneth Wayne. He was raised on the American West Coast and has spent a few decades in Asia. Kenneth has under his belt five novels, dozens of short stories, a novel-length travelogue, and two ESL text books. He also runs the eTLC, (Electronic Text & Literature Cloud), which is an archive that only features authors who are not backed by major presses. So when you're done here, go check out his archive and find some new weekend reading material!

And now, from the author himself.
* * * *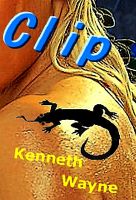 Title: Clip
Genre: "Kafkaesque" thriller
Your book in 1000 words or less: Imagine you're watching a video posted on the Internet and catch a glimpse of yourself in it. The only thing is, you were never in the place where the clip was shot and you don't know any of the people in it.

Charles is an expatriated American living in Japan who spots himself in a sex video that has gone viral. Initially, he dismisses it as a fluke. His apprehension fades after a Japanese barmaid is convinced that he was in the clip and enthusiastically accepts his offer to spend the night with him.

His new-found fame wanes when a supervisor at work watches Charles in a job-related video and notices that Charles' facial expressions momentarily take on those of a different person. After this incident, Charles is convinced that his video "flukes" must be explained.

His journey to discover the truth reveals: a former porno starlet with a "unique" talent; the couple from the viral video wants him to join a secret cult; the CIA is involved somehow; people with blue auras are important; disappearing people complicate things; a Russian gambler at a Korean casino with an agenda; and inter-dimensional reptilian aliens behind it all.

CLIP is a Kafkaesque thriller, which implodes into haunting 21st century veracity.
Something Unique About Your Writing Process: Driving my family crazy as scribble away instead of devoting my time to day-trading or some other more "practical" pursuit.